Tripti Nath/Sissu (Lahaul)
Twentyseven-year-old Ayesha marked her unforgettable presence against snow-capped mountains at an altitude of 10,500 feet in Lahaul, in her well-wrapped blue Hijab (headscarf). Nobody could miss her as she stood out among other enthusiastic runners at the starting line of India's first snow marathon held recently in sub-zero temperature in Sissu, a small town in the Lahaul valley of Himachal Pradesh.
A Mumbai-based software engineer who hails from Kasaragod, Kerala's northernmost district with a tropical monsoon climate, Ayesha got the second position in the women's category after finishing a 5 km marathon in 47 minutes 53 seconds.
The fastest woman in this category was Palchan-born 16 year- old SrishtiThakur who clocked 43 minutes 21 seconds. A student of class XI from a Government school, Manali, Srishti who was born in Palchan, a village near Manali says she was impressed with Ayesha as she was way ahead of other women from Himachal Pradesh who have grown up in the snow.
Married to a naval officer, Ayesha, a front-end developer, left her five-year-old daughter back home in Colaba to test her grit and stamina. Her commitment to participate is truly inspiring. She traveled 16 hours by Duronto train from Mumbai to Delhi, a distance of 1,384 kilometers.
Happy to have got leave from her company, Ayesha continued her onward journey from Delhi without any halt and took a bus to Manali that took another 16 hours to cover a distance of 550 kilometers. From Manali, she took a cab and reached Sissu in nearly two hours. " At first, the weather was rather discouraging as I am not used to such cold. I have only seen snow four years back while visiting Nathu La (pass) when I went to Sikkim. I hail from Kasaragod on the Kerala-Karnataka border and moved after Class XII to the southern part of Kerala to Kollam district to pursue engineering from T K M College of Engineering.
"Later, I worked in Calicut for a year before getting married in 2015 to join my husband in Mumbai where the climate can be best described as moderately hot with a high level of humidity. I am not used to such cold weather. My husband was the first person I called when I finished the marathon.''
The return journey was no less challenging but Ayeshatook back a snow runner's medal from north to west India.She returned to Mumbai on March 28, five days before Ramazan,observed by Muslims worldwide as a month of fasting, prayer, reflection and community.
When this correspondent rang her up the late evening on Sunday, Ayesha was breaking her fast after observing Roza.
Asked how she had so much stamina, Ayesha looked back to her school days. "I am from a rural area and had to walk four to five kilometres every day from my home to school. I was inclined to do sports and would also run a lot in school. I ran for fun. After my marriage, I was lucky to have got a very favourable environment in the Navy to pursue my interest in running. The Navy culture is very motivating. Two weeks back, I participated in a 90 minutes relay stadium run in which eight participants had to run for 90 minutes each over 12 hours.''
I must say that Ayesha who came from so far to participate in the marathon and from a different climate altogether performed very well. She could have even outrun me,'' said Srishti.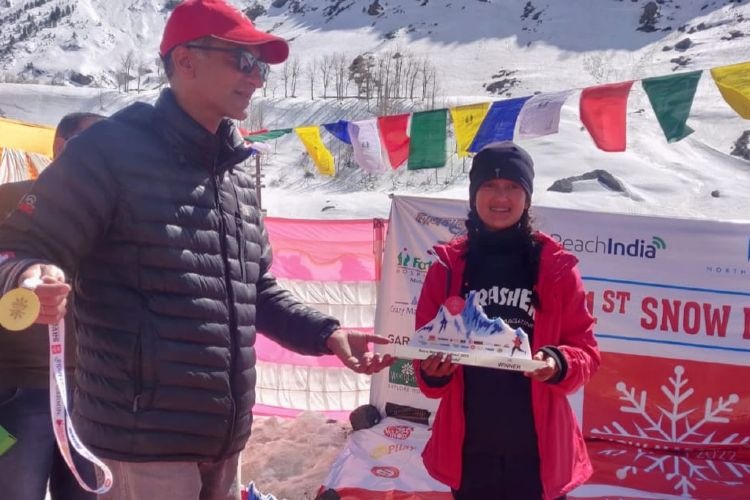 At a time when there is a raging debate on the Hijab in India, Ayesha thinks that wearing Hijab is a matter of personal choice.
"I always wear the Hijab. My point of view is that if you want to wear it, you wear it, and if you don't want to wear it, you don't wear it. It is a matter of personal choice. We are nobody to judge others. There are so many people in the Muslim community who don't wear Hijab. I prefer to wear the Hijab as I have been wearing it from the time I was six years old. So, I am very comfortable."
Asked how the Hijab stayed intact during the snow marathon and withstood the breeze at such high altitude, Ayesha said, "We wrap it around two-three times. It is very well tied.''
Ayesha said that she learned about the snow marathon from a Sole to Soul group, a group of runners.
Recalling her experience of participating in the snow marathon on only oranges and bananas, this charming lady with an endearing smile, said, "I reached Sissu only a day before the marathon. I was not sure of the climate. So, I decided to run only five kilometres but I will take part in the half marathon category in the next edition of the snow marathon and encourage my friends and relatives to take part as well. I would like to join the Mountaineering institute in Darjeeling. ''
Her husband, Lt Commander Mohammad Imran, a submarine engineer officer, was equally excited about Ayesha's participation. " I always like sporty and adventurous people. I also take risks. Ayesha has recently taken up skating also.''
Source: Awaz The Voice