Srinagar
These days, an unusual rush of women, men, and children with moist eyes and hands cupped and raised in prayers to the Sufi Saint Syed Abdul Qadir Jilani at his dargah located at Khanyar in Srinagar downtown.
The unabated rush to the shrine since Monday is a testimony to the age-old relationship between Kashmir and Sufism.
Syed Abdul Qadir alias Dastgir sahib is the only Sufi who has never been to Kashmir and yet is revered by the people of Kashmir – both Muslims and Hindus. Syed Abdul Qadir Jilani hailed from Persia, modern-day Iran-Iraq. Although his tomb is in Baghdad, he is less known in his native land than d in distant Kashmir.
It's the influence of Sufis like Pir Dastagir Sahib that makes Kashmir an inclusive place with a liberal culture and mutual trust between local Muslims and Kashmiri Pandits.
A holy relic belonging to the Pir will be displayed after each prayer.
Halima Bano, 26, has come from Kupwara to seek the blessings of Dastgir Sahib for a suitable groom.
Nazir Lone, 35 has come to seek settlement of his land compensation claim that has been pending with the Revenue Collector, Budgam.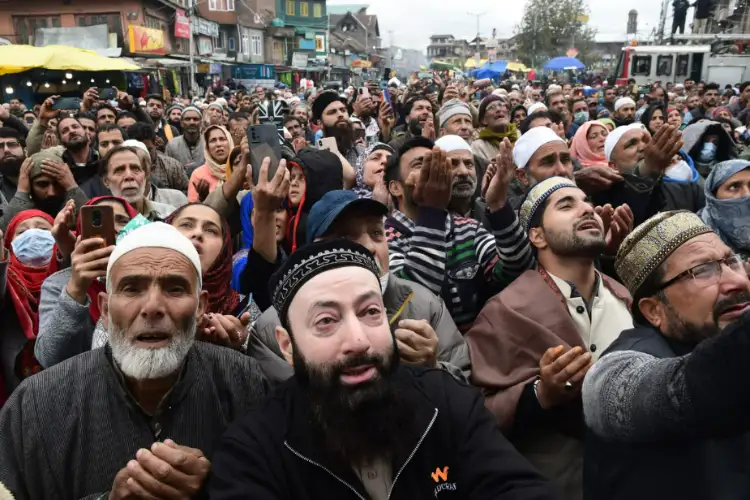 He is going to make a wish that in case his land settlement case is disposed of, he would take his wife on the Haj pilgrimage.
Sajjad, 42, and his wife Raja, 38, have come to seek blessings of a child. They have been married for 10 years and yet crave a child.
Salaam Malik, 68, have come with his 8-year-old grandson Altmash, from Shopian to pray at the shrine.
Given the rush, vehicular movement on the road leading to the dargah has been closed by traffic police to facilitate the movement of pilgrims coming on foot.
The shrine was built in 1860.
Kashmiris both Muslims and Hindus – have been coming to the shrine to seek Dastgir Sahib's blessings for centuries. The holy relics of the saint (believed to be the hair of the saint's beard) is displayed to devotees at the annual Urs.
The moment the deedar (display of the holy relic) starts, the devotees turn emotional. Deedar is held after every "namaz" during festivals especially the Urs at Khanyar and Saribala in Srinagar.
Sweet shops are open throughout the night. Devotees buy halwa and parathas to take home and are distributed among other family members as tabruks from the dargah.
Born on March 23, 1075, in Gilan Province of today's Iraq, Syed Abdul Qadir Jilani is renowned for his extraordinary ability to encapsulate the mystical nature of Sufism.
Before his death on February 21, 1166, he authored many books, of which the treasure for the seekers is the most famous.
Source: Awaz The Voice