Saquib Salim
"We, Muslims do not want any concession. Do not want protection, do not want safeguards. We are not weak. This concession would do more harm than good to the Muslims." Tajamul Hussain told the Constituent Assembly on 26 May 1949.
The Constituent Assembly of India met after the elections based on a limited and separate electorate on 9 December 1946, to frame a Constitution for free India. Those were extraordinary times and riding on a wave of divisive communal hatred, the Muslim League had won most of the Muslim seats. Only four out of eighty Muslim seats were won by Congress candidates, viz. Rafi Ahmed Kidwai, Maulana Abul Kalam Azad, Khan Abdul Ghaffar Khan and Asaf Ali. The decision of the Muslim League and the Princely States not to join the Constituent Assembly meant that only 4 out of 210 members present during the first three sessions were Muslims.
The situation changed on 14 July 1947 when after the declaration of the partition the Constituent Assembly met for the fourth session. At least 27 Muslim members entered the assembly. They were those Muslims who were elected with a Muslim League ticket but did not go to Pakistan or a few from princely states. Of course, there were apprehensions about their loyalty. Naziruddin Ahmad and B. Pocker Sahib Bahadur declared, "there was no need for any doubt whatsoever regarding the fact that we have come here as loyal and law-abiding citizens of India." More Muslims entered the assembly over the next two years as the process of unification of the country progressed.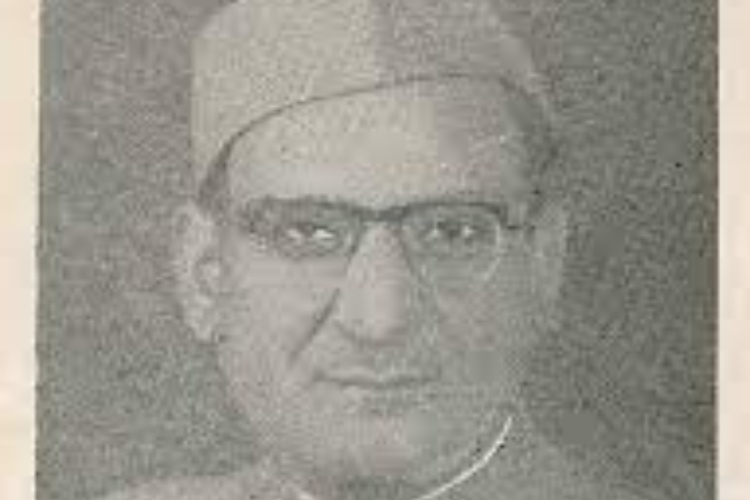 Though Muslim League boycotted the deliberations on the Constitution reducing the number of Muslims to a negligible number it did not mean that members from other communities overlooked the Muslims. Sachchidananda Sinha, the first Chairman of the assembly, concluded his introduction to the assembly with a poem by Mohammad Iqbal. Iqbal was a symbol of the political aspirations of Muslims and the quote recognised Indian Muslims as a political entity and an indispensable part of the Indian nation.
Maulana Abul Kalam Azad was made a member of several committees and got the honour along with Kriplani to conduct Dr. Rajendra Prasad to the chair after the latter is elected the President of the assembly. The occasion echoed with the cries of Inquilab Zindabad and Jai Hind. Both slogans were coined by patriotic Muslims. Hasrat Mohani, who coined Inquilab Zindabad, later joined the assembly as its member.
When Muslim members entered the assembly, a few people, inside and outside the assembly, doubted if they were committed to India or not. But, all those fears proved to be unfounded. When the Congress leaders like Jawaharlal Nehru and Sardar Patel were in a dilemma on how to solve the problem of reservation in a secular state these members vehemently opposed any safeguard for Muslims.
Naziruddin Ahmad emerged as a vocal member of the assembly. He contributed to debates related to almost every important subject. On reservation to Muslims, he said, "they (reservations) imply a kind of inferiority. They arise out of a kind of fear complex, and its effect would be really to reduce the Muslims into a statutory minority. Then, again, Muslim reservation is psychologically linked up with separate electorates, which led to so many disasters."
Tajamul Hussain of Patna also argued, "we want to merge in the nation. We desire to stand on our legs. We do not want the support of anyone. We are not weak. We are strong. We are Indians first and we are all Indians and will remain Indians. We shall fight for the honour and glory of India and we shall die for it. (Applause). We shall stand united. There will be no divisions among Indians. United we stand; divided we fall. Therefore we do not want a reservation. It means division. I ask the members of the majority community who are present here today:-Will you allow us to stand on our legs? Will you allow us to be a part and parcel of the nation? Will we be an equal partner with you? Will you allow us to march shoulder to shoulder with you? Will you allow us to share your sorrow, grief, and joy? If you do, then for god's sake keep your hands off-reservation for the Muslim community."
On the question of minority, Tajamul said, "we are not a minority. The term 'minority' is a British creation. The British created minorities. The British have gone and minorities have gone with them. Remove the term 'minority' from your dictionary."
Maulana Hasrat Mohani was another important Muslim member who opposed the term minority and also the reservation for Muslims. He was a leading freedom fighter. He said,  "I am, therefore, strongly opposed to reservation of seats and there should be no reservation under any circumstances. I say that there is absolutely no need for reservations". He further told the assembly, "why do you call the Muslims a minority? They can be termed as a minority only when they function as a communal body. So long as Muslims were in the Muslim League, they were in a minority. But if they elect to form a political party without any restriction leaving it open to any community, then you should remember that whenever political parties would be formed, the Muslims would give fight by forming coalitions. Therefore, I say that Muslims would not like to be called a minority. To say that Muslims are in minority is to insult them. I cannot tolerate this even for a moment."
B. H. Zaidi, who represented Rampur and Benares states, also opposed the idea of reservation or treatment of minorities to Muslims. He said that Sardar Patel by opposing reservations for Muslims was doing good to the community and Muslims "will come to realise that their truest friend and not their ill wisher was a man like the Honourable Sardar Patel". He argued that Muslims had to work towards self-reliance rather than hoping for concessions. In his view, Hindus would not oppress Muslims because "there has been no occasion in the history of India when the Hindus have persecuted a minority".
Zaidi said that Tajamul was wrong in claiming that there was no minority in post-independence India. In his view, "there is one minority in this country which has always been, and which is existing in every country, and will go on existing, and that is the minority of the good and the just, of the people who are humane and liberal-minded, and who work for the regeneration of mankind and the progress of humanity. There is that minority today in this country and to that minority Sardar Patel and the Prime Minister of India, and you sir, who adorn the Chair, belong, and the Members of this House."
There were many such occasions in the Constituent Assembly where Muslims contested the narratives of minorities, reservations, and exceptionalism. While it is true that a few Muslims who backed Mohammad Ali Jinnah played instrumental roles in bringing about the partition of India, similarly it cannot be denied that other Muslims played an important role in making India a democratic republic. They stood up for an inclusive secular India where being Indian defined citizenship rather than their religious belief.
Source: Awaz The Voice