Pakistan has successfully test-launched its nuclear-capable missile system just after its archenemy India refused peace talks with Islamabad and bought billions-worth of weapons from Russia.
The missile system, which can fire both nuclear and conventional projectiles to a distance of 1,300km, was tested on Monday by the Army Strategic Forces Command (ASFC). The test of the Ghauri Ballistic Missile was praised by Pakistani President Arif Alvi, and Prime Minister Imran Khan.
"The launch consolidates Pakistan's nuclear capability, which is aimed at peace and stability through a credible deterrence regime," the Inter-Services Public Relations (ISPR) statement read.
The test comes weeks after India U-turned on its decision to meet with Pakistan to discuss ways of ensuring peace and stability in the region.
India had initially accepted Pakistani Prime Minister Imran Khan's invitation, but it then backed out over what its foreign minister branded the "brutal killing" of three policemen at the hands of Pakistani militants earlier this month.
India's Ministry of External Affairs (MEA) also cited Pakistan's reported distribution of postage stamps purportedly glorifying terrorism as a reason for India refusing to hold talks.
The nuclear-capable-missile launch also follows India signing off a $5.4-billion contract for the purchase of S-400 missile systems from Russia.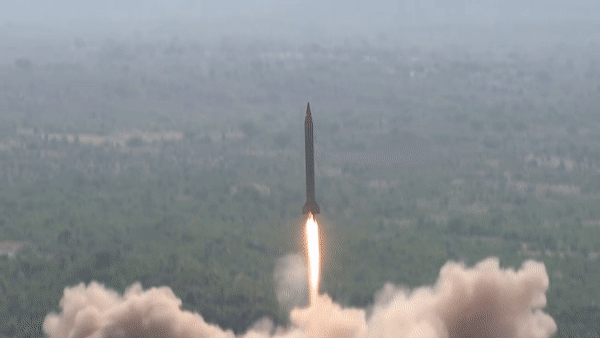 The deal was signed by Russian President Vladimir Putin and Indian Prime Minister Narendra Modi when the two met on Friday in India's capital of New Delhi.
India is bound to be unsettled by Pakistan's nuclear-missile testing, given that its neighboring country and long-time enemy was already set to become the world's fifth largest nuclear power.
In fact, it was reported in September that Pakistan's nuclear capability had become of "considerable concern" to the US and other countries, as its warheads are poised to increase in number to between 220 and 250 by 2025, according to a new study carried out as part of the Nuclear Information Project, overseen by the Federation of American Scientists.
Source: RT