Mohd Akram / Hyderabad
Nobody wants to be left out in joining the Har Ghar tiranga campaign by hoisting the tricolor on the occasion of 75 years of India's Independence. The students and teachers of madrasas and those visiting the local mosques are as much excited about it as anyone else.
National flags were distributed in Madrasas and mosques across the state of Telangana on Friday as everyone is keen to fly the tricolour atop their house on August 15.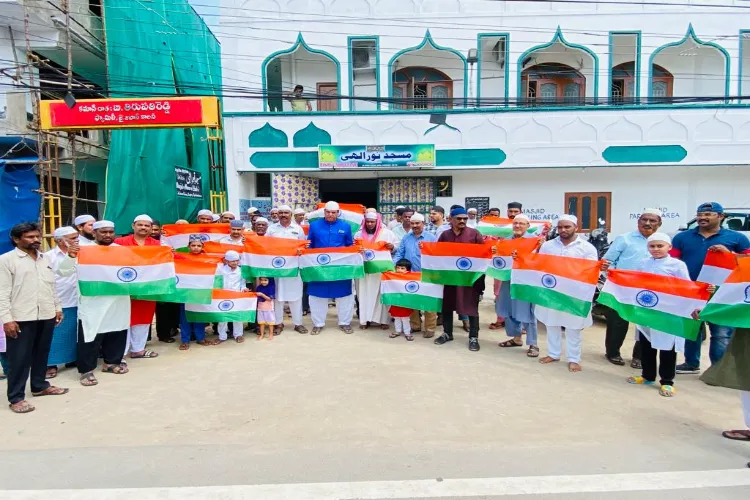 Students of Maulana Azad Urdu University took out Tiranga Yatra near Charminar in Hyderabad. The tricolor was distributed in many mosques after the Friday congregational namaz. Many mosques have also announced the programme to hoist the national flag on August 15.
The tricolours were distributed in Surya Nagar Toli Chowki Masjid, Masjid-e-Ahmad, and Masjid-e-Mohammadiya of the city after the Friday prayers for people to enable the hoisting of the flag at their homes on the Independence Day.
The Imams of the mosques also asked the devout to hoist the flag atop their houses to make the anniversary of Independence Day a special occasion.
Many social organizations also joined in the distribution of the Tricolour. Prominent social activist Khwaja Badruddin distributed the flags at Noor-e-Ilahi Mosque in the Textile Mandal Municipality area of ​​Medchal district of Telangana.
Here martyrs who laid down their lives for freedom and maintaining it were also remembered and a special prayer was held for them.
Sakina Foundation Chairman Asif Hussain Sohail distributed the tricolours at Surya Masjid in Hyderabad and appealed to people to make the 76th Independence Day a memorable event. Speaking with Awaz-the Voice, Asif Hussain Sohail said that the Muslim community's enthusiasm is as high as anyone else's for the independence day and the hoisting of the flag on a national day.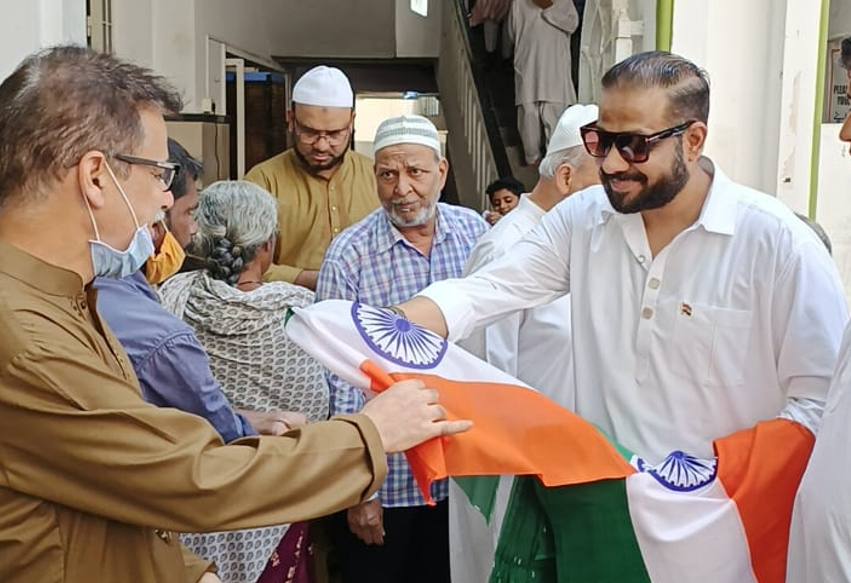 Asif Sohail said that the Muslim community's sacrifices for the freedom of India cannot be forgotten. He said Independence Day is also an occasion to remember the martyrs.
He appealed to people to tell the stories of martyrs to the children so that their legacy is carried on.
Khwaja Badruddin, who distributed the tricolor in the mosque of Medchal district, said that the tricolor is our pride and it's a joy to be part of the campaign on the 75th anniversary of the country's independence.
We are included in this. This is such an occasion when we decide with the tricolor that we will always be ready to sacrifice everything for our country. That is why the tricolor was distributed among the public.
Source: Awaz The Voice